I made a very smart deal with David a few years ago. He was discussing work and I saw a certain look in his eyes and I could tell that not only did he want a bigger position, but that it looked likely that his career was going in that direction. My heart sank. I still think of the good-old-days when David was not chairman of his department and we had lots of free time together. I've been very blessed with David's chairmanship, so I don't want to complain too much, but I've lost a lot of time with him in the midst of his success. So I pointed out to him that if he got a c-level position, I would see much less of him. And so to offset that sacrifice, I would need one thing: a country home.
I made a deal like that in the past. When we were purchasing our house and before we moved in, I said that I'd like to decorate the top floor however I'd like. For some reason, he said okay. And since David came from a family of lawyers, I made him shake on it. (Knowing that if I didn't make him shake on it, it would turn into "I don't remember promising that.")
So back to the current deal... when I told David my request, he said "Oh. I don't want that kind of job. I'm very happy where I am. You have nothing to worry about." I said that if I have nothing to worry about, there's no harm in shaking on the deal. So we shook. HA-HAH!
Well, guess what! His career got to that certain point. I didn't say anything about our deal. I want to go on the record as having not brought up the country home. David brought it up. Which makes me think that not only was he open to the idea, but he was sort of looking forward to it.
I started off calmly investigating homes for sale on Cherry Grove with the knowledge that perhaps it's too soon and maybe it's better to rent for a season. But once I started investigating, well, it turned into an obsession and the obsession got the better of me.
I went out to Fire Island for a weekend and I realized a few things about a Fire Island house. David doesn't really ever join me when I go to the island. He joined me one night many years ago and he essentially bolted out of the house in the morning and headed back to Manhattan. For years we have lived with the notion that David just doesn't like the beach. However, I don't think that's true. All Cherry Grove rentals have the same basic problems that stop David from enjoying himself:
No air-conditioning (if there's a heat wave on you're not on the beach, it can be hard to sleep)
Not the best coffee options (that's easy: get a french press or a small espresso machine)
The bathrooms are tiny
The bathrooms have no shelf space (I always have to balance my toiletry bag on the back of the toilet)
The linens are from 1976 and are therefore threadbare
If David were to join me for a weekend at the beach and he had all of those things taken care of, it's sort of a perfect get-away. He can check email all day long and I wouldn't care. He can be on the phone discussing VIP cases all day long. It's easy to get in and out of. It's totally relaxing.
After this realization, I started thinking of affordable and hip housing options. This turned a mild interest in exploring property on Cherry Grove into a giant prefab housing obsession. I can't stop Googling prefab houses. Here are the current leads:
The Quik House is the house that really kicked me into overdrive on my obsession. I think this house is gorgeous. And it's the coolest out of all the options. It's made out of six shipping containers. The layout is quite good - lots of room for a spacious master bathroom. Two bedrooms for guests. The top floor is flooded with light. The main space is a big open family/party space. And it's made our of shipping containers! How cool is that!?
The very big drawback on this is that I have no idea how you get 6 shipping containers on an island with no roads. Even if you could get them to Cherry Grove, you need a crane to put them on the property. I suppose you could use a helicopter, but then you start saying goodbye to the savings you made by going with a shipping container home.
Another pro of a Quik House is that I could put a green roof on top to help with insulation. And a green roof would be awesome cool.
But still, if I could do it, this is the path I would go down. I'd also want to put in a shipping container pool. I'd call the property "The Dumpster Dive".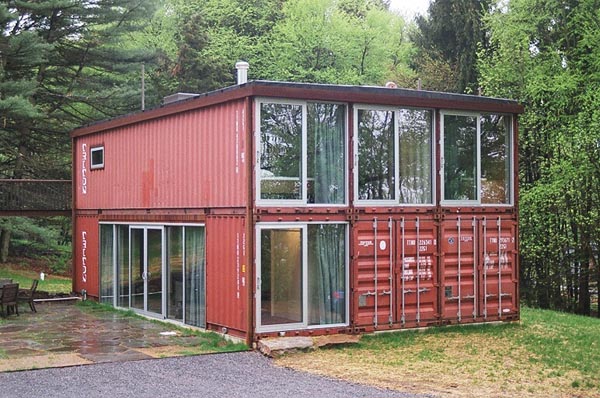 I love Wee Houses. They were my original inspiration for a country home. I love the simplicity and openness. And despite the fact that it is practically an IKEA home, it style has a smart and modern design.
One of the things I like about them is that they have wonderful finishing options. Everything down to the drawer pulls have neat options. If I had my complete druthers, I would have a studio and then a "tall" with a pool in between. That way there's a big family house and a small space just for me. I could rent out the house and still go out and hang in the studio if I wanted.
The Cabin Fever house is a highly likely choice. I love that they are spacious and simple. Most of them are just a big open space, yet they have a retro-cool vibe to them. They are probably the most affordable and fastest option. Similar to the Wee House option, I would want to have one unit for David and I and a separate unit for guests - to give it a "compound" feel. And also I like privacy.
The only real drawback on Cabin Fever is that they don't really have two-story options. It would be nice to give the master bedroom beautiful views across Fire Island. I'm not so sure that would work as well with a Cabin Fever home.
However, these houses do not come shipped as an entirely finished house like the first two choices. They are disassembled and you reassemble them on location. So I know it's possible to build these on the island. I don't know how, but it's not that different than a regular house, so it must happen one way or another.
They say that the best way to see a Can Fever home is to see them being made in Miami. If you fly down to see them in person, they will deduct the air ticket price from the cost of the house. So I just may do that!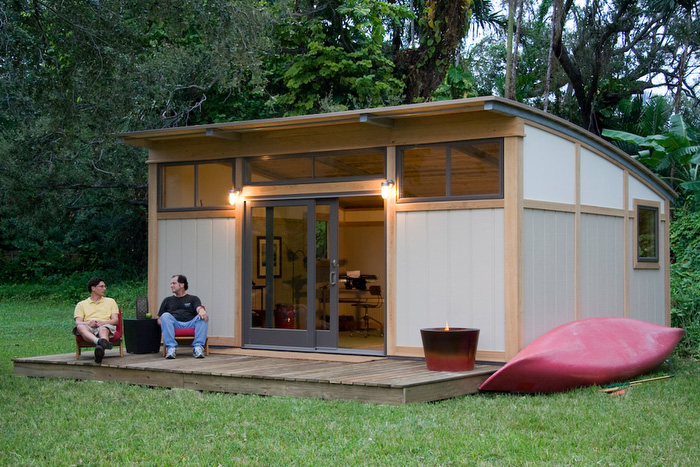 Hold on to your hat because Bamboo Living is a little crazy. It's not really in the running anymore because it's so weird, but it hasn't left the back of my mind.
The pluses on this one is that bamboo is very strong and storm proof. The drawback is that the design is a little ... intense. It's definitely recreating Hawaii or Bali or Laos on Cherry Grove. If I were to go with a Bamboo Living home, I would want one of the really Asian looking ones because one should either go big or go home http://www.bambooliving.com/david-sands-signature-collection.html.
This would definitely look out of place on Cherry Grove - more so than a shipping container home - which is either a plus or a minus. It's also cheap for the house but a bit more expensive to ship. It has to come from Hawaii. They don't deliver a finished home, so I think this doesn't have as much of a problem with getting the house on the island as the first two houses do.
I like the houses, it's just a lot of look and the look dictates the contents. So I have a harder time imagining me living in this place. However, I think this is the house that Rosenberg has in Hawaii, and it doesn't feel as "polynesian" as these pictures would make one think.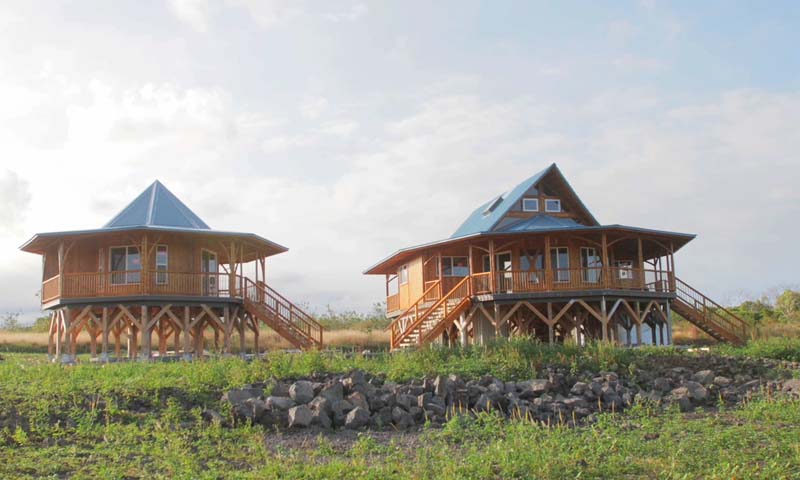 ---
David thinks there might be local prefab options that are not necessarily on the web. I suppose that's possible, but I highly doubt I'd find anything that is such a great combination of affordable, eco-friendly, and cool as the four I've found here.
I'm trying to not get too excited about anything until I go out to Fire Island and talk to a real estate agent and contractor about what's involved.
In the mean time, it's fun to dream!